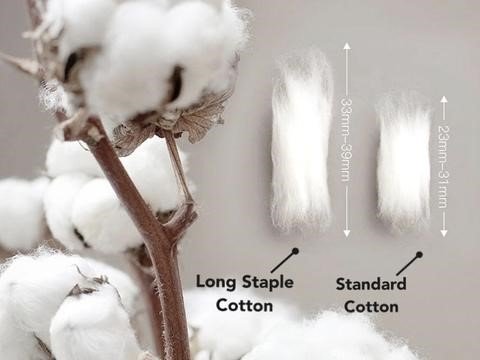 long staple cotton:
Staple length is the average length of a bundle of fibres. A short staple fiber is up to 1 1/8″ long. A long staple fiber is between 1 1/8″ and 1 1/4″ long. An extra-long staple fiber is between 1 3/8″and 2″long.
As staple length increases, so does cotton's soft, silky feel. For this reason, long staple cotton is a popular choice to make sheets, towels, and other quality products. Through the spinning and weaving process, a longer fiber length results in a smoother surface with fewer exposed fiber ends.
Because the longer the cotton fiber, the stronger, softer, and more durable the resulting fabric. Fabrics made of long-staple cottons fray less, pill less, wrinkle less, and even fade less than fabrics made with their short-staple counterparts.
Long staple cotton creates a fabric with less exposed fibre ends and stronger threads, creating bedding that is soft, smooth, and durable. Everything that you'd want in your luxury bedding.
Long staple has many advantages compared to short staple fibres:
Longer fibres are easier to process.
Evenness of yarns is higher for long staple cotton fibres.
Higher strength yarn can be produced from them for the same level of twist.
It's much better to have bedding made from high quality long staple cotton fibres in a lesser thread count (above a minimum level of 2-300) than short staple cotton woven into a high thread count sheet.
Giza cotton:
Giza cotton is grown in Egypt, but what makes it different from Egyptian Cotton is its very specific area of cultivation The Delta is nutrient-rich and has a high humidity, which is a great boon to cotton production.
Giza is undeniably the best cotton in the world. It has to do with a number of factors that ultimately combine to produce the finest cotton products. As previously mentioned, Giza falls into extra-long category with a superior fibre.
Giza is known to be of the highest quality grade; the longest, thinnest, strongest, and most uniform. You will find it in the most luxurious products sold by fine linen and bath retailers. This is why Giza cotton is used to make the world's highest-quality bed sheets and bath towels
The Egyptian cotton has remained the most sought after, especially by the European mills, known for their superior weaving techniques. The longer staples translate into more uninterrupted fibers when composing yarns. It means the use of fewer chemicals to create white fabrics, and a silky-smooth finish.
some of the characteristics make it superior to all other cotton variants and natural fibers.
Extra Long Staple (ELS) fibers – the fibers are extra-long with high uniformity index, producing amazing sheen and lustre closer to silk. The irregularities are minimal and it feels very smooth on the skin when woven into a fabric.
Strength – Adding to superior properties is a high breaking resistance and hence it will look as good as new for a long time
Breathable – thanks to its natural structure and porous characteristics, the air movement is not restricted, making it a breathable fabric
Even today, most of the Egyptian cotton is hand-harvested, to preserve its natural properties, keeping its fibers straight and intact.
Pima
Pima cotton, on the other hand, comes with many of the properties similar to Egyptian cotton but is considered to be a secondary material. It's 35% longer and absorbs color better than normal cotton and is more lustrous and softer.
Pima cotton can be said to be the cousin of Egyptian cotton and is primarily grown in America, tracking its roots from Arizona. It consists of long fibers that make durable, long lasting, and soft bed sheets that resist wrinkling and pilling.
Pima cotton sheets are cheaper than Egyptian cotton sheets making them the most preferred and popular cotton type chosen.
Egyptian Cotton vs Pima Cotton Quality
In most cases, quality directly corresponds to the cost. Egyptian cotton is made from the highest quality long staple fibre. Its strong, soft and resistant to stress and pilling. The cotton becomes even softer with each wash and usage. Egyptian cotton comes with a high price tag, but with proper care, it can last years and even offset the initial high investment. Pima cotton, on the other hand, comes with many of the properties similar to Egyptian cotton but is considered to be secondary material. Its 35% longer and absorbs color better than normal cotton and is more lustrous and softer.
Care & Appearance
Both kinds of cotton are machine washable with no degradation to the material.
Egyptian cotton can handle wash temperature of up to 40degree Celsius while pima cotton can be washed to 60-degree Celsius. The Egyptian cotton touch is tremendously soft and smooth while pima is just as soft boasting a high absorbency rate.